I have loved dolls since my childhood and especially baby dolls. My love affair with dolls began early in life, and the dolls were like real babies to me. Each dolly had a name, and I do recall loving little Maggie so much. She slept in my doll buggy along with my cat Mickey. "He" was a handsome black and white feline of mixed varieties but nevertheless, a gorgeous creature! One day, I went to the doll buggy to pick up Maggie (the dolly) and was I surprised to see Mickey in the buggy with six baby kittens. Wow.....that is when I learned a little about life. Not knowing or understanding the event taking place, I picked up Mickey (the cat) and wonderously "she" had a baby kitten in my hand. Needless to say, I changed Mickey's name to Mickie. This was my first experience with a visit from the stork.
This story is true and I feel certain it is one of the reasons that I became a doll artist. For the last five years, I have been creating newborn type baby dolls. The name of my little nursery is Storkland Special Deliveries. Knowing that I love to collect, you will not be surprised that I started collecting antique postcards with storks on them. The postcards date from around 1900 to about 1912, and the artwork is priceless in my mind. I love the art, the colors, the themes, the postmark dates, and many times the message written on the back of the postcard. Loving to decorate for parties, I have used the postcards in various ways for many baby showers and presentations of my dolls.
Note the foot of the stork is rocking the cradle.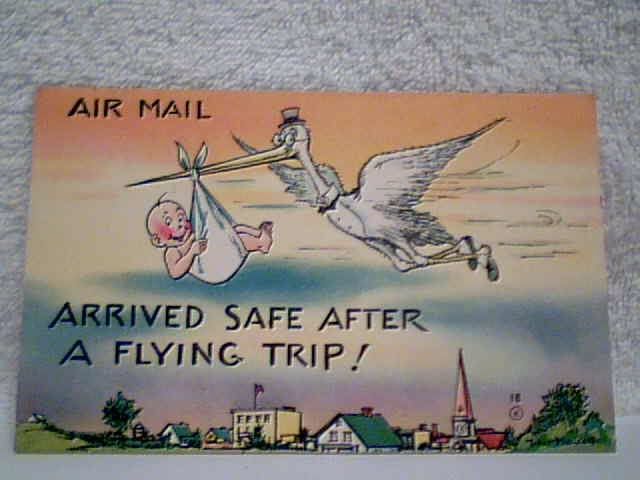 I am thinking this card is not as old as some of the others, but cute.
Don't you just love how the mother and father's hands are reaching out to welcome
the new little baby!
In each postcard the stork is always featured so lovingly with the baby.
This is my favorite in the collection! Mrs. Stork appears to be offering her sympathy.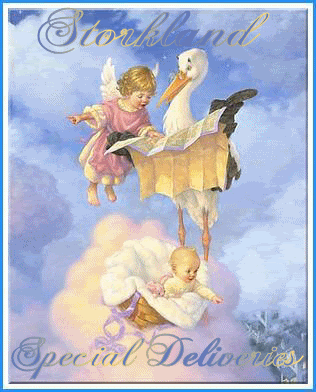 The logo of my doll nursery.
Please, feel free to visit my little website and linger to view some of the dolls that I have created. I could never add pictures all the dolls I have made. The "stork" has visited the nursery numerous times and he and I have become dedicated friends. Luckily, a lot of hands have reached out to buy some of my dolls. The stork and the doll artisit have a bond that hopefully will continue for many more years!
I am so happy you stopped by for a visit and I hope to see you again soon. Please, sign up to follow my blog.